Samurai Warrior Costume Detail
These costumes were designed and constructed to be worn to a large gaming convention in 2001. My husband is an avid player of AEG's Legend of the Five Rings CCG and in 2001, he was the Crane Clan Warlord. He asked me to make samurai armor for him to wear to GenCon in commemoration of his Warlord title. I decided to make myself a kimono and accompany him as his Lady. We brainstormed materials for the armor, needing something lightweight to pack and wear, and inexpensive to purchase. We finally decided on the surprisingly workable PVC window blinds, cut them down to size, then glued and laced them together. The finished armor was painted, with a stencil of his Crane Clan prominently displayed.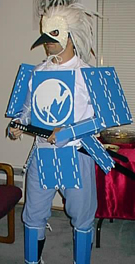 I constructed a helmet of lightweight plastic mesh, lined it with soft flannel and glued it to a purchased soft latex bird beak mask. I applied layers of long coque feathers to the helmet top to give him that fierce bird look.
My kimono is made of beautiful cotton with an asian design, fully lined with a complementary colored cotton, with a piece of stiff cardboard under the obi in front to keep everything flat. For speed of dressing, and comfort's sake, the obi bow is pre-made and threaded on to the sash, then pinned in place. My blue/white wig is typical of hair color in most Crane Clan art for the card game.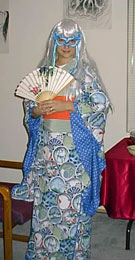 Back to Samurai Warrior Costume Main Page
Home | Costumes | Ordering | Contact Us